Have you ever seen a beautyberry bush with its vibrant magenta colored berries? The berries seem to glow, they are so bright!
This plant is useful in a couple ways. Ways that we like…medicinal and edible. Woo hoo!
First of all, you cannot mix this plant up with another so ID is fairly simple. The leaves are oval to obtuse, large, toothed and slightly fuzzy with a scent that once you smell it, you will always know it. The scent is not offensive, sweet but kind of pungent. The berries are tiny, brightly colored purple and grow in a bracelet-like fashion around the branches.
You can use the leaves as a strong insect repellent comparable to DEET without the chemicals – yeah! If you find yourself in the woods without a bug spray, just grab some of the leaves and crush them and rub onto your skin. Of course you should always do a small test area to make sure you are not allergic as with any plant. You never know.
Grab a few extra leaves to take home and make a spray:
Bug Off Recipe
***1-2 cups fresh leaves/stems cut up in a quart jar and fill with boiling water. Cap and let set for at least 4 hours. Strain to use in spray. Do not drink.***
How to Make Homemade Bug Spray:
1. Fill spray bottle (I used 8 ounce) 1/2 full with distilled or boiled water or infused beautyberry water
2. Add witch hazel to fill almost to the top – leave about 1.5 oz space.
3. Add 1 oz. fractionated coconut oil
4. Add 1/2 tsp vegetable glycerin if using
5. Add 30-50 drops of essential oils to desired scent. The more oils you use, the stronger the spray will be. ****Choice of oils: lavender, rosemary, cedarwood, lemongrass, lemon, citronella, peppermint and clove
Now for the berries. You can taste a berry raw but it is not recommended to eat them raw, you must cook them. Greene Dean's site – Eat The Weeds calls Beautyberry, "Jelly On A Roll". It makes a delicious jelly!!!
Here is the recipe – click here for Greene Dean's article
shared on Wildcrafting Wednesday!!!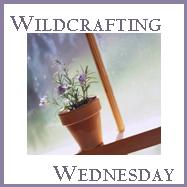 Enjoy your day –