This week was my first real morel hunt. A couple days ago I found one morel, just one but yesterday we found about 50!
My friend Stephanie, fellow plant and wild foods geek like me, and I went on an afternoon hunt for morels. She had been looking before so she knew where to look better than I did. Here I was thinking they had to be near the big trees, the elms, the poplars and guess where the majority were found? Amongst the privet patches! Privet…the tree that grows out of nowhere and eventually cover a few acres in no time at all.
Well privet is not very tall and quite bushy so you just can't walk underneath, you gotta crawl. Ummm….yeah we must be die hard wildcrafters when I wear the snake proof boots so I won't get attacked by snakes and then wind up crawling on hands and knees to get those almost out of reach morels and risk being face to face with a snake. 😀
No snakes were seen – thank God! Stephanie and I were covered in sweat, dirt, sand, stuff from the bushes but we were happy, we scored two baskets of marvelous morels!
So back to the environment for morels. Evidently, they don't have one particular place to grow. These were found, like I said in a privet covered patch but in a sandy, loamy soil close to a river. Also – remember to go with someone experienced first so you don't pick a false morel which is poisonous. A real morel is hollow all the way through whereas the false morels are not. Plus the real morels have a honeycomb appearance to the cap and look like tall hats or little trees, the false ones are round.
I cooked some of those babies up in butter, garlic and pepper and they were delicious!!! Guess we'll eat some more tonight. 🙂
Here are a few recipes for using morels.
Alaska Morels…in Pasta
Here in south central Alaska, I get tons of morels. I find them from the end of May thru the first part of July in most any area that has a large percentage of birch trees. Never anywhere near pockets of spruce trees. I have gotten as many as 200 in just a few hours of picking but usually stop after 70 or so. That's about all my dehydrator will hold. Most are of the honey colored and dark brown varieties and range in size from 1-1/2″ to 4″ tall. I like to take the larger ones and slice them in half, dredge them in egg batter with a few dashes of salt and habenero powder. Coat them with flour and fry them in butter.
The smaller ones go into a sauce for pasta as follows:
2 leeks – sliced thinly
2 scallions – sliced thinly
2 dozen or so smaller (1-1/2″) morels- cut in half
3/4 cup good champagne
2 lg tbsp of sour cream
1/2 cup whipping cream
4 – 5 tbsp butter
salt – pepper to taste
1 tsp chopped fresh lemon basil
Saute leeks and scallions till just transparent. Add morels, salt and pepper and saute till liquids stop coming out. Turn heat to high and add champagne being sure to scrape bottom of skillet. Reduce heat to med., add sour cream and whipping cream and cook till reduced slightly. Add fresh lemon basil remaining to heat for 2 – 3 more minutes. Pour directly over cooked Angelhair Pasta!
Courtesy of Gary Koski – Anchorage, Alaska
Wood Family Favorite in a butter entrée
This recipe has been the Wood family favorite for many years. You can substitute the crackers with flour if so desired.
1 big haul of fresh morel mushrooms
2 lbs real butter (or margrine)
1 doz eggs
1 box saltine crackers
Mushroom Preparation – Wash and cut fresh mushrooms into quarters, slicing long way. Soak in large bowl of salt water to remove and kill all those little pesty critters. Leave soak in refrigerator for a couple hours.
Read the rest here at THE GREAT MOREL
Asparagus and Morels ***Especially since the asparagus are coming up!
Experienced hunters know that asparagus is a tasty combination with morels. If you're not familiar with this pairing I suggest you give it a try. You'll be surprised how delicious, yet simple, this recipe is.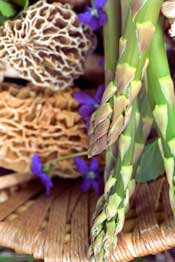 Morel recipes are often served with some sort of meat or animal product. Yet this is an easy creation that lets non-meat eaters enjoy the fresh fungi as well. Replace the butter with olive oil for a truly vegetarian recipe.
1/2 lb fresh morels, sliced lengthwise
2 tablespoons butter
2 bunches asparagus, cut into 1 inch pieces
1 shallot, chopped
2 cloves garlic, minced
Melt the butter in a skillet over medium heat. Add the shallot pieces, garlic, morels, and asparagus. Cook until the morels are browned and the asparagus is tender, usually 8 to 10 minutes.
Too easy! *****From Mushroom Appreciation***
Do you have a favorite way to cook them? Please share in the comments below.
Thanks and enjoy the beautiful day ahead –
Anne-Marie