So what is feverfew? Up until 4 years ago, I never heard of it! Feverfew (Tanacetum parthenium) is used mainly for headaches – migraines to be more specific. I USED to get migraines, yep USED to until I stated taking feverfew capsules and have not had a migraine in years. It was probably the start of my road to herbalism.
My patch!!!
After purchasing the capsules and taking them for each day for 90 days, I realized I needed to get more or find my own feverfew to make some capsules. At the time, I was afraid to stop taking them and wasn't even sure how long I could be on them but until knowing more, I was not stopping. I looked all over my property, neighbors property and no feverfew…sigh so I planted my very first medicinal seeds and a few months later I had my very own patch of feverfew that keeps reseeding itself and coming back each spring. Of course I still needed to do something to either make my own capsules or buy another bottle so I found a reliable source of organic dried feverfew from Mountain Rose Herbs, ordered a pound(yeah why the heck did I need a pound? Rookie mistake), ordered the capsule making machine and gel capsules and I was on my way to making medicine!
I made lots and lots and lots of capsules and shared them with everyone!!! Anyone that had ever had a migraine was going to try them – with precautions, I might add. Not being too over zealous here because feverfew does have some contraindications and may not be for everyone.
Here is the good and the bad:
Helps headaches by controlling the inflammation that causes blood vessel constriction in the head which may contribute to headaches. It works to inhibit the release of two inflammatory substances, serotonin and prostaglandins, both believed to contribute to the onset of migraines.
Pain relief for arthritis
Reduces fevers, hence the name. 🙂
Can use as a flea rinse for pets
Warnings: Since it opens the blood vessels vs. constriction – it may bring on menses- heavier than normal too. I would usually back off a few days during my cycle.
Do not use while pregnant.
Do not use if allergic to plants in the ragweed family. ***If you are allergic, taking the freeze dried capsules may be a good choice but definitely not fresh!
Ok back to the harvest. There is bunches and bunches outside and I only harvested a small amount although it looks like a giant amount at first.
I left it in the basket for two days to start drying before I garbled. Ahhh new word? Well it was to me! Garbling is removing all the unwanted plant parts, debris and any insects to leave you with all the good stuff!!
I stripped the leaves off the thick stems, clipped the flowers off the small stems and this is what I have left to allow to dry completely. I will weigh it after it is completely dried and work on another pile of feverfew.
By the way, you don't have to make those capsules, here are a couple of easier ways to make your medicine 😉
Tea

– 2-3 tsp. dried feverfew to one cup of boiling water. Let steep for 10-15 minutes. I like to combine this with either holy basil or a touch of lavender.
Lavender-Feverfew Migraine Tincture

– Recipe from Rosemary Gladstar
1 part California poppy(seed, flower & leaf)
1 part feverfew leaf
1 part lavender bud
80 proof vodka, brandy or vegetable glycerin if you don't want the alcohol. Not as strong but still effective
Chop herbs fine. Place them in a clean, dry glass jar. Pour enough alcohol over the herbs to completely cover them by 2″. Seal jar and label with the date. Shake your jar daily and you can strain it after two weeks. I usually do mine between the 3rd and 4th week. Some say after two weeks, others 4-6 weeks. Dosage – for long term use – take 1/2 tsp. 2x/day for up to 3 months. Discontinue for 3-4 weeks, then repeat the cycle as needed. For acute symptoms, take 1/4 tsp. every 20-30 minutes for up to 2 hours.
PS: Here is a botanical of feverfew to compare to other plants that may resemble it. The leaves are what you need to know to distinguish them from chamomile or may weed or daisy etc…
 Feverfew Botanical illustration – note the flowers appear to have 10 petals but actually there are 5 pairs of petals. The petals are blunted on the edges.
Hope you enjoyed today's post!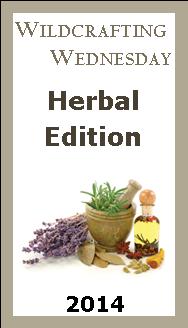 Leave me a comment if you have used feverfew or if you have any other headache/migraine remedies –
Thanks,
Anne-Marie