I wanted to follow up on my last post of making the wild jellies with what the medicinal benefits are of wild violets.
Wild violets (Viola odorata) have so much to give us besides their amazing beauty and scent!
Violets are a symbol of faithfulness, a symbol of purity and charm against evil. Blue violets says "I'll always be true" and signify constancy; white violets depict modesty, or the desire to "take a chance on happiness"; and yellow violets convey modest worth, and the White violets – depict modesty and the desire to "take a chance on happiness"  borrowed from this blog, you must read the history of the violet!!!
Obviously from the last post, you can EAT the violets and you can also eat the leaves either raw in a salad or cooked. Here some more foodie tips:
Eat the petals raw in a salad
Freeze the petal in ice cubes to float in your drinks
Whip up an egg white, dip the flower in the egg white and coat with white sugar, shake off excess and let dry completely. Use these to decorate cakes or just to eat – 🙂
Make jelly or syrup or LOLLIPOPS!
Lollipops –
use 3/4 cup of violet infusion as per jelly recipe(1:1 ratio)
1 T lemon juice
2 cups sugar****** I FORGOT this earlier in the post, please note!!!!!!*******
Mix all together well and add to a larger sauce pan then you think you need.
DIRECTIONS
Prepare candy molds with non-stick cooking spray. If you do not have molds, you can use a SILPAT on a solid surface. Without a SILPAT spread oil in a thin and even coat on a marble pastry board or a cookie sheet.
In a bowl whisk sugar, lemon juice and water until very well blended and pour into a small saucepan which will be filled about half full when ingredients are added.
Place on heat, if working on electric set on highest setting. If working on gas set on highest setting but ensure that flames do not come up on sides of pan.
Place a candy thermometer in syrup and bring to boil. Using a wooden spoon remove crystals that form along edges of pan. Once done DO NOT STIR syrup anymore. Boil until the candy thermometer reaches 305°F or unto hard crack stage. Meanwhile fill a bowl with cold tap water and set aside.
When syrup has reached 305°F add flavor and remove from heat. Place bottom of pan for 1 minute into cold water. (Will make a steamy sound and pan will be bouncy.) Remove and place on a kitchen towel to prevent pan from sliding. (Very important.)
At this stage, the syrup will have slightly thickened. Pour syrup in small puddles a few at a time onto prepared pans and stick a lollipop stick into the bottom while syrup is still very hot. Roll stick to ensure it is coated with candy. Working quickly, press candies into syrup.
Let cool for at least 10 minutes. Once cooled wrap tightly in plastic to prevent lollipops from becoming sticky.
Now for the awesomeness of the medicinal benefits – 
Leaves and flowers are used as medicine for fibrocystic breasts, Violet stimulates the lymphatic glands, helping the body get rid of bacteria and other toxins. It is especially useful for swollen glands. Loaded with minerals and vitamins A & C
Just found out to it is good for rashes, hives and eczema – so add that to the list!
So make a salve with the violet leaves – instructions for salves here
Remember to get your supplies at Mountain Rose Herbs, by shopping at my affiliate links I receive a small commission to help keep me blogging and learning herbalism, thank you bunches!!!
shared at Wildcrafting Wednesday!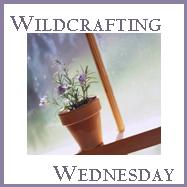 Let me know what you make with your violets!
Enjoy your day,
Anne-Marie