Don't ya just love a good jelly on your toast in the morning, or on a spoon or your finger? No really…good jelly must be homemade to be awesome. That stuff you find in the grocery store is mostly high fructose corn syrup and maybe a bit of fruit. 🙂
Those of you that know me well, know that I love wildcrafting to find things in nature to make foods and medicine. Last year I created an assortment of wild foods jellies and jams like muscadine, honeysuckle, sumac, kudzu flower and corn cob(ok not so wild but it came out yucky, will have to revisit this one). folks loved the honeysuckle so much, I ran out of it at the Farmer's Market as soon as it was made!
So tonight I am teaching a class on Wildcrafting Jams and Jellies at my friend Cyndi's over at the Lazy B Farm. They will be excited when they have a taste test of all the jellies and get to make a special jelly tonight but I am not spoiling it because some of you readers will be there. 😉
Here are two creations from this month and I especially love the violet jelly – sweet violets!
Recipes below –
1st step – pick some wild violets, rinse them off and take the flower heads and put them in a glass jar.
Pour boiling water over the flowers, cover and let sit at least 30 minutes, a few hours are even better! Look at that blue infusion.
Strain and squeeze out every last drop of goodness! Next add your lemon juice….wait for the cool part – ta-da. IT TURNED PINK!!!!!!!
Add your sugar, cook as per directions adding pectin and fill jars to process.
The recipe I used for the
violet jelly

is from Prairie Land Herbs.

You will need:

2 heaping cups of fresh violet petals (see note below)
2 C boiling wter
1/4 C well-strained, clear lemon juice
4 C sugar
3 oz liquid pectin (Certo)

****NOTE – I have edited the jelly recipe to use a low sugar pectin – 1 box and only 2 cups sugar!!*******
LEMON BALM JELLY
1.5 cups boiling water
1/2-3/4 cup fresh lemon balm leaves, torn
juice from 1/2 lemon
1.5 T low sugar pectin
1/3 cup honey
2 T sugar
Pour boiling water over lemon balm, cover and steep 10 minutes. Strain and squeeze out all the juice from the leaves.
Put liquid in a measuring cup and add lemon juice(you should have 1.5 cups of liquid, if not add water) then pour into a pot and add the pectin. Bring to a full boil.
Add sugar and honey. Bring to a hard boil, then time it for 2 minutes. Use a spoon and do the jelly test – see if the jelly starts to drip into a thick sheet off the spoon. It is ready. Do not over cook.
Fill sterilized jars to within 1/8th of an inch, cover and process in water bath canner for 10 minutes.
****REMEMBER, when picking flowers in the wild, make sure there are plenty for others and that they have not been sprayed with pesticides.****
I will be doing the Medicinal profiles on lemon balm and violets shortly!
Shared at Wildcrafting Wednesday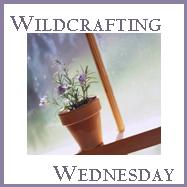 Enjoy!
Anne-Marie