Yesterday, I taught a class on "Making Herbal Gifts!". It was so much fun!!! How many of you love to make and receive homemade gifts? It is so much more personal when you receive a gift that was created by a friend. 🙂
Below are some of the ladies and their creations – we made Peppermint Lemon Foot Soak, Brown Sugar Scrub, Lemon Balm Lip Balm and Ranch Salad Dressing Mix. Each person "decorated" their creations for Christmas gifts, although some were keeping the goodies for themselves. 😀
I have the recipes so you can make them too! Share some of your ideas and I will post them here!
OH, I almost FORGOT – look at my cool, redneck lip balm making holder. 😀
Redneck egg carton lip balm making holder!

Peppermint Lemon Foot Soak – makes one 8 oz. jar
1/2 cup epsom salt
1/2 cup kosher salt
1/2 tsp. each – baking soda, corn starch, olive oil
1 Tbs. dried peppermint leaves
5 drops peppermint essential oil and 7 drops lemon essential oil
Mix together very well. To use – add 1/4-1/2 cup mix to a warm basin of water. Soak for 15 minutes to sooth and refresh tired, achy feet.
Brown Sugar Vanilla Scrub

– makes about 5 oz.
1 cup brown sugar or raw sugar
5 Tbs. extra virgin org. coconut oil(not refined!!!)
1/2-1 tsp. vanilla extract(I found imitation is best in this case)
Melt oil if solid just until liquid. Mix all together well and add to a jar. Keeps 6 mos.
To use – take a small amount in hands and rub onto wet skin. Sweet and good enough to eat!
Lemon Balm Lip Balm

– makes about 8 tubes
4Tbs. almond or coconut oil infused with fresh lemon balm leaves( about 1/3 leaves 2/3 oil)
***Put oil and leaves in mason jar, place jar in a few inches of water in a pot. Heat and simmer for about 30 minutes until oil has lemony scent. Strain using cheesecloth. Beautiful yellow color!
4 tsp. beeswax
8-10 drops vitamin E
2-3 drops lemon essential oil OR if you are lucky enough to have Melissa EO(Lemon Balm) use it.
Melt strained oil with beeswax, add vitamin E, remove from heat, add essential oil. Pour into your tubes quickly. If it starts to harden just reheat for a moment. Let the tubes cool then cap.
This post shared at Wildcrafting Wednesday!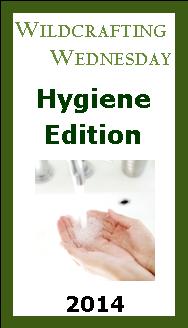 also shared at Oil Me Up Wednesdays
Enjoy!
Anne-Marie