Yesterday was quite stormy here in GA so I could not go outside and play in the dirt or ride my horse. 🙁 I could have just laid around and watched tv or surf the internet but what did I do? I was productive!
I needed to refill stock on my herbal remedies for the farmer's market and try out a new recipe. I love new recipes!!! 🙂 My Chickweed Salve is my top seller and I have bottles of previously infused oils in the fridge to save me time and since the chickweed is not going to be around much longer, I must go make some more. The Chickweed Salve is wonderful for dry, irritated skin conditions like rashes, eczema, bites. Dry skin in general and I add a bit of plantain to the recipe as well. Plantain helps with some of the same symptoms but it is fabulous on wrinkles. Yep I use it on my face because I have incredibly dry skin! Now I know I am just dealing with the outside and must fix what is going on in the inside to combat the dry skin thing and I am working on it.
The new product I worked on was Thieves Formula Spray. If you never heard of it, here's a brief story on Thieves:
Back in the old, old, really old days…in the time of the plague, there were a band of gypsy thieves that would rob the dead folks of their possessions. People noticed that even though they were robbing the ones that just died of the plague, the gypsy thieves NEVER got sick. Why? The reason was, the thieves rubbed essential oils all over their bodies. Now I don't know if they knew what they were doing or if they just liked the smells but it worked.Whether or not this story is true, the essential oils in this blend are antiseptic, antiviral, antibacterial, and anti-infectious. They will stimulate the immune system, circulation and respiratory system, and help protect against the flu, colds, bronchitis, pneumonia, sore throats, cuts, and more. Modern testing has shown the effectiveness of this blend and studies have found it to have a high kill rate against airborne bacteria.
I have found a few different recipes for the blend or you can buy the blend from Young Living Essential Oils or make your own!
So here is my recipe from the Mountain Rose Herb Blog and if you want to buy essential oils that I used, please visit the link. I receive a small commission from MRH at no cost to you but it helps me continue to make cool stuff!
Thieves Formula Spray
4 drops organic Clove Bud essential oil
3 drops organic Lemon essential oil
2 drops organic Cinnamon Bark essential oil
1-2 drops organic Eucalyptus essential oil
1 drops organic Rosemary essential oil
witch hazel
water
Fill a 1 ounce spray bottle alittle more than halfway with witch hazel(about 2/3s), add the essential oils then fill the rest with water. Shake before using. This size is convenient to carry in your purse, car, camping, hiking gear. It is quite strong and you can easy double or triple depending on the size of the bottle. The original recipe made a 1 ounce jar of just the oil to then dilute as needed. Here it is:
•40 drops organic Clove Bud essential oil
•35 drops organic Lemon essential oil
•20 drops organic Cinnamon Bark essential oil
•15 drops organic Eucalyptus essential oil
•10 drops organic Rosemary essential oil
I am also posting the recipe for my Chickweed Salve. 🙂
1 cup of infused oil
1/4 cup beeswax
5-7 drops of lemongrass or lavender essential oil
To infuse an oil(I am sorry no pics here), take about 2 cups of freshly wilted chickweed(overnight wilt) and 1/2-1 cup of plantain leaves – place in a crockpot and cover with extra virgin olive oil. You can use other really good oils, that is just my preferred. Do not cover!!! Heat on low with a thermometer in the pot, keeping the temp between 95-120. When it reaches the higher temp, turn it down to warm or it will continue to get hotter. We don't want crispy herbs!!! I leave it in total, about 2-3 hours until it smells nice and herby. Turn it off and let it cool before straining through cheescloth- squishing out all the good stuff. Keep a cup for the recipe and refrigerate the rest for later.
So heat the one cup of oil in a stainless steel pot or double boiler on low and add the beeswax until all is melted. I test the thickness by using a cold spoon that was in a glass of ice water and drizzle some oil onto the cold spoon. Let it sit a minute and test the hardness. If you like a softer salve, add more oil. Harder salve, add more beeswax.
Next place 5-7 drops of your essential oil into each of two 4-oz jars and pour the hot, chickweed/beeswax mix into each jar. Let cool, then close.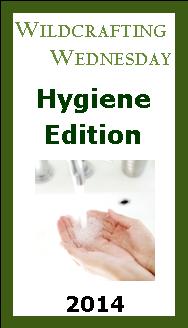 Let me know what ya think. 🙂
Have a great day today!
Anne-Marie